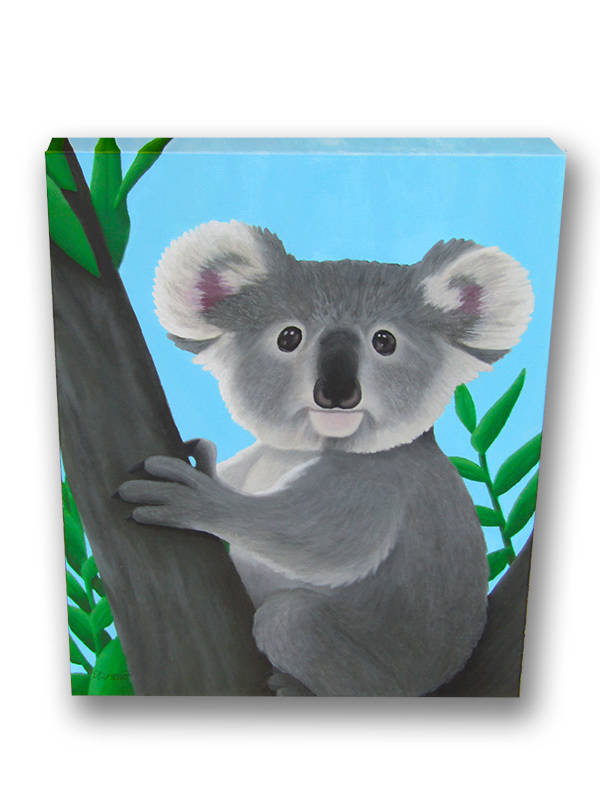 Imagine having a cute and cuddly koala staring at you from your wall. This adorable acrylic painting of a koala on canvas will make you smile every time you see it. The koala is painted with realistic details and textures, and its expressive eyes will melt your heart. The painting also features a beautiful tree branch with bright green leaves, creating a lovely contrast with the koala's gray fur.
The painting is done with Liquitex Basics acrylic paint, which gives it a bright and smooth look. The image covers the whole 16" x 20" gallery-wrapped canvas, so it doesn't need a frame.
Koala 
is not only a charming piece of art but also a way to support a good cause. The artist loves koalas and wants to help them survive in their shrinking habitat, especially after the devastating fires in Australia. That's why she is donating 20% of the sale of this painting to the Australian Koala Foundation, a nonprofit organization that protects and conserves koalas and their environment.
The painting also comes with a Certificate of Authenticity and an NFT record that will be transferred to you as the owner. It took the artist about 24 hours to create this painting in 2020, and she is selling it for $325. You can contact her directly to purchase it. Don't miss this opportunity to own this amazing koala painting. It is a unique and meaningful piece of art that will bring joy and beauty to your space, and also help save the koalas.
Done with Liquitex Basics acrylic paint
16" x 20" gallery-wrapped canvas.
The image continues onto the edges
Includes a Certificate of Authenticity