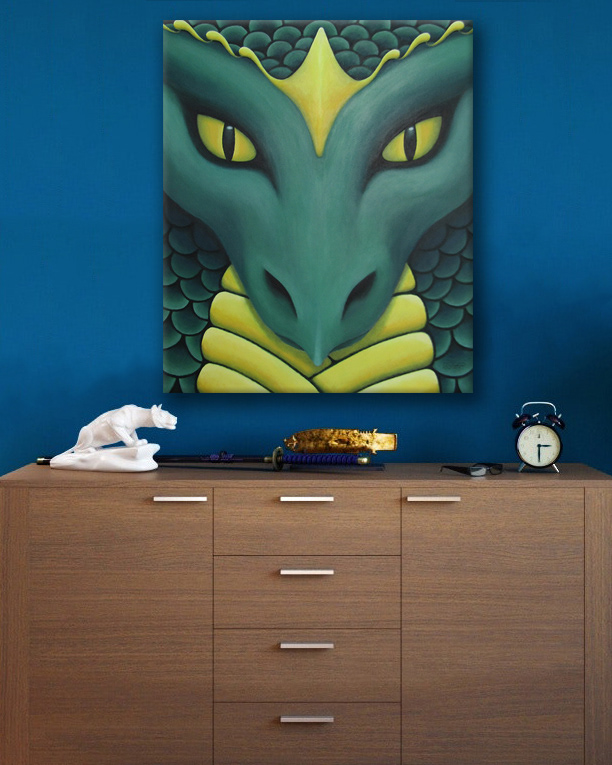 Do you have a passion for fantasy and adventure? Do you admire the power and grace of dragons? If so, you will love this original acrylic painting of a green dragon on canvas.
This painting captures the fierce and majestic expression of a dragon's face, with its yellow eyes, horns, and belly. The dragon's scales and horns are painted with intricate details and textures, creating a realistic and stunning effect. The painting is done with Liquitex Basics acrylic paint, which gives it a vibrant and smooth finish. The image covers the entire 20" x 24" gallery framed canvas, so it looks great from any angle.
This painting is not only a gorgeous piece of art but also a rare and valuable collectible. It comes with a Certificate of Authenticity and an NFT record that will be transferred to you as the owner. It took the artist about 126 hours to create this painting in 2019, after many revisions and improvements. She is selling this painting for $400, which is a bargain considering the amount of work and skill involved. You can contact her directly to purchase it or order prints from
Zazzle
.
Don't miss this opportunity to own this amazing dragon painting or get some of its products. It is a unique and meaningful piece of art that will inspire you and impress your guests.
The image continues onto the edges
Includes a Certificate of Authenticity