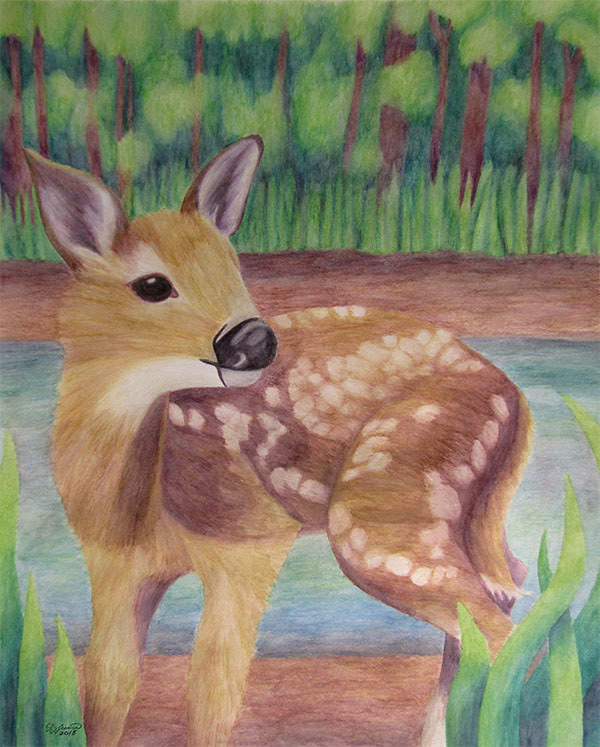 Are you looking for a serene and graceful piece of art to adorn your walls? Do you want to connect with the energy and spirit of the forest? Do you admire the beauty and symbolism of deer? If you answered yes to any of these questions, then you will love Fawn, a gorgeous watercolor pencil piece by Jessica.
Fawn is a realistic and captivating portrait of a young deer who is standing by a river, surrounded by a green forest. She looks at you with curiosity and gentleness, inviting you to join her in her peaceful and magical world. Deer are symbols of adaptability, angels, innocence, peace, softness, new adventures, new opportunities, and the woodland goddess. They can inspire you to embrace change, trust your intuition, and live in harmony with nature.
This original piece was created in 2018 with high-quality watercolor pencils on watercolor paper. It has a spray varnish finish to protect it from fading and moisture. It measures 16" x 20" on 18" x 24" paper and comes in a 22" x 26" frame. It also includes a Certificate of Authenticity to prove its authenticity and value. It took approximately 14 hours to complete, and it shows the artist's skill and passion for watercolor art.
Fawn is a unique and stunning piece that will add elegance, tranquility, and enchantment to your home or office. It is perfect for anyone who loves forest animals, watercolor art, or spiritual symbolism. It is also a great gift idea for someone who is starting a new journey or needs some guidance.
Don't miss this opportunity to own this amazing watercolor pencil piece for only $200. Contact Jessica today to purchase Fawn and bring some forest magic into your life. Don't want the original? Posters are available through Zazzle.